09jul(jul 9)10:00 am12(jul 12)2:00 pmThe 'Impractical Jokers' Museum of Impractical History10:00 am - 2:00 pm (12) Michael J. Wolf Fine Arts
Time

9 (Thursday) 10:00 am - 12 (Sunday) 2:00 pm
Location

Michael J. Wolf Fine Arts

363 Fifth Avenue, San Diego, CA 92101
Event Details

TruTV's Impractical Jokers take over the Michael J. Wolf Fine Arts Gallery from Thursday through Sunday of Comic-Con. The Jokers — Q, Murr, Joe and Sal — will be present at various times throughout the exhibition, which will feature fan-generated artwork and show artifacts from some of the most legendary moments in Impractical Jokers history.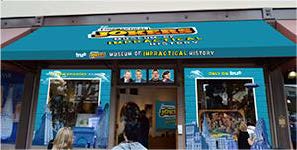 The Museum kicks off at 10 a.m. on Thursday, July 9, with a "Don't Go Hungry on the Way to the Con" activation which will supply visitors with a complimentary Impractical Jokers-themed breakfast (Murr-ito anyone?) until noon, then beginning at 4 p.m., fans will be offered bite-sized snacks after a long day of panels, before closing at 7 p.m.
Additionally, on Friday July 10 from 3 p.m. – 5 p.m. visitors to the museum will be treated to an Impractical Jokers comic book signing with Q, Sal, Joe, and Murr. The comic book, The Secret Origin of truTV's Impractical Jokers, is a reissue from a limited partnership run with DC Comics Entertainment and features an original story and new imagery from the series.
Below is a rundown of the activations at the Museum of Impractical Jokers:
ALL DAY ACTIVITIES JULY 9 – JULY 12
Photo booth, Spray Paint Tattoos chosen by the Wheel of Doom, Social Vending Machine, Caricature Artist, "Drop a Ninja" Fan Wall, "That Bitch Irene" Petition, Show Artifacts/Props, and Fan Art room
THURSDAY, JULY 9
10am-12pm: Complimentary "Don't Go Hungry On The Way To The Con" Breakfast including "Mur"ittos, "Sal"sa, Cup of Joe and BB"Q" Chips
4-5pm: ImSnacktical Jokers: Snack Hour
7pm: Museum closes
FRIDAY, JULY 10
12pm-5pm: Museum open to public
3pm-5pm: Comic book signing with the Impractical Jokers, meet the guys, have them sign your book
SATURDAY, JULY 11
10am: Museum open to public
4-5pm: Snack Hour. Like a regular hour, but with more snacks.
7pm: Museum closes
SUNDAY, JULY 12
10am: Museum open to public
2pm: Museum closes. All good things come to an end.
Connect with Impractical Jokers
Website: http://www.trutv.com/shows/impractical-jokers
Twitter: http://twitter.com/truTVjokers | #ImpracticalJokers
Facebook: http://facebook.com/impracticaljokers